Check Point's latest Cloud Security Report, signed in collaboration with Cybersecurity Insiders magazine, presents the results of a survey conducted in January 2022 among 775 cybersecurity professionals: an interesting insight into the connection between the security area and the increasingly popular cloud services.
The benefits of a multi-cloud strategy
Today, many organizations have already adopted or are considering a multi-cloud system, driven by the advantages this solution offers in terms of performance, flexibility, and cost. This is an increasing trend: according to the report, the number of users of two or more clouds has risen from 62% in 2021 to 76% in 2022. Among the reasons for the success of this paradigm, we can find the extreme scalability of the service, which can vary in real-time according to users and business needs, and the guarantee of continuity. The growth of the cloud workload confirms this trend as well: today, for 35% of respondents, it is more than 50%; 29% of them also say they have a plan to accelerate workload migration, bringing it up to 75% within the next 18 months.
Beyond these advantages, we must also consider the increasing complexity in terms of the security of the cloud or multi-cloud scenario. When we think about data security it's clear that choosing the on-premise simplifies the management of apps, services, and security policies; nevertheless, the management and maintenance costs far exceed the cloud's ones.
Cloud security: incidents and preventive actions
According to the report, 27% of organizations have experienced a security incident related to the public cloud in the past year. These are the most frequent types: misconfigurations (23%), data or files inappropriately shared by a user (15%), account compromise (15%), and vulnerabilities exploited (14%). Therefore, the efforts of a security area that has to manage a multi-cloud facility must be directed on several fronts: preventing incidents, securing key cloud applications in use, achieving regulatory compliance, and defending against malware.
Even on this critically important issue for organizations, those converting to the cloud are faced with a choice: rely directly on the cloud provider for security, or select a third-party security provider? According to the data, the majority of organizations surveyed consider this second option as the most reliable.

The challenges: security and expertise
Ensuring privacy and complete data protection is the most urgent challenge when it comes to multi-cloud systems, followed by having the right skills to implement these solutions. This last point involves almost half of the respondents: as many as 45% of them emphasize the lack of qualified employees among the concrete difficulties they encounter in their day-to-day work in ensuring a higher level of security in the cloud. Other operational issues include compliance, lack of visibility into infrastructure security, setting consistent security policies, implementing continuous security controls, and automatically applying security across multiple clouds. On this last point, it is indicative that 80% of respondents need to access 3 or more security dashboards to secure their cloud or multi-cloud system; 75% of them believe that adopting a single platform would be a much more agile and functional solution.
A single platform for cloud security
CloudGuard is Check Point's solution that can be integrated through Kirey Group's expertise and offers comprehensive threat prevention by unifying the various functions for protecting cloud assets and workloads in a single platform.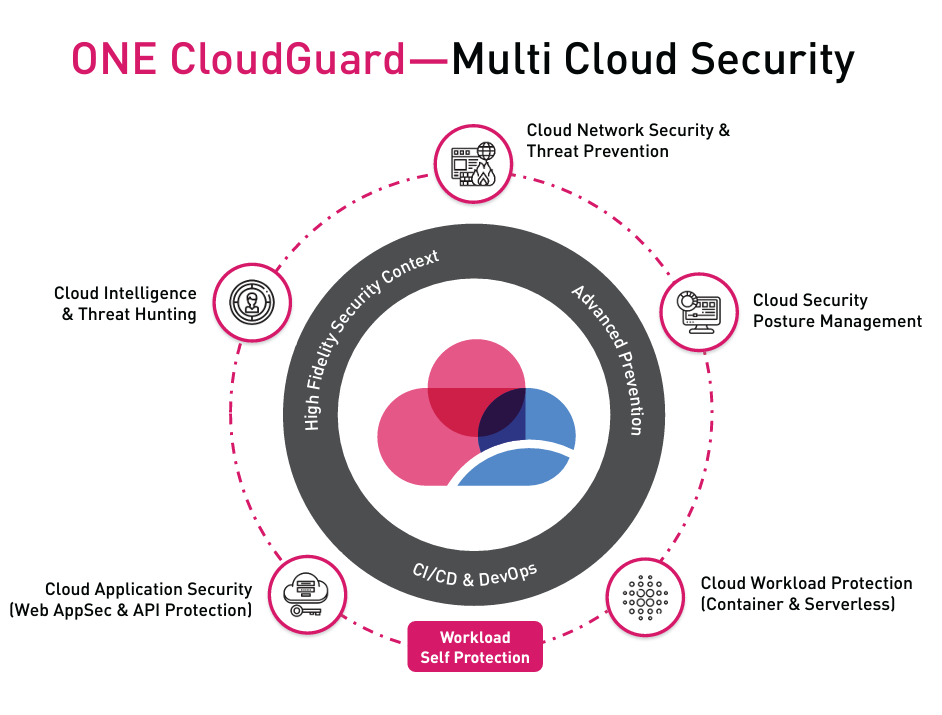 The main benefits of the platform are:
1. Unified security for multi-cloud: intelligence, visibility and threat prevention in one platform
2. Security and posture management: prevents threats and enables a high level of posture management
3. Automated DevOps: efficiency for multi-cloud security from development to production

With CloudGuard, the partnership between Kirey Group and Check Point is enriched with a very important solution to support the conversion to multi-cloud, an established pillar of digital transformation.