By Francesco Guzzo, DevOps & Automation Manager
Network infrastructure is one of the pillars of the IT world because it supports the storage and exchange of all data needed for business, both internally and externally. Therefore, it is a delicate, complex, and constantly evolving area. Today, the biggest challenge for all the experts who work in this area is to have a stable and documented network. While tools such as ITIL can help with the first point, knowing and documenting a network in detail remains a big problem for many: for example, it frequently happens that business inefficiencies are caused by changes in network configuration and rollback is very complex because of poor documentation.
Moreover, the scenario has become even more complicated with the advent of the Cloud. In addition to having to manage the equipment in the data center, it is also necessary to govern the equipment in the Cloud, and very often this kind of visibility is limited by Cloud Providers.
An integrated solution: IP Fabric and GitOps model
As a system integrator, Kirey Group has two main goals: first, to make the organization's network architecture clear, simple, and always up-to-date; second, to exploit the potential given by automation and, even more, by the GitOps model.
Specifically, GitOps summarizes a set of procedures for managing application and infrastructure configurations based on Git, an open-source versioning system. GitOps uses Git as a single source of truth for applications and declarative infrastructure. Specifically, Git is a repository for automatically managing the installation and deployment of infrastructure that contains comprehensive information about the condition of the system, allowing you to view and control the history of changes related to that condition. Building on the experience of GitOps developers, Git allows Operations teams to manage infrastructure with the same tools and processes that are used to develop software.
Regarding network architecture mapping, Kirey Group has an important collaboration with IP Fabric under its belt. IP Fabric is a plug-and-play Network Assurance platform listed by Gartner© as a Cool Vendor 2022. It creates an inventory of network devices and offers valuable information such as network topology, configurations, and status, highlighting inconsistencies and problems through its automated discovery of network assets.
After the first step of mapping the network, solved thanks to IP Fabric, we take the organization's goals further, making daily maintenance processes more efficient. If until today everything was delegated to the Network Administrator who, with great care, had to manage hundreds or thousands of devices, today we are convinced that this approach should change. At Kirey Group we believe that automation can actively support the Network Administrator and play a crucial role in improving performance for efficiency and error reduction. How does it work in practice? We see it in the diagram below, which combines the concepts of GitOps and NetOps.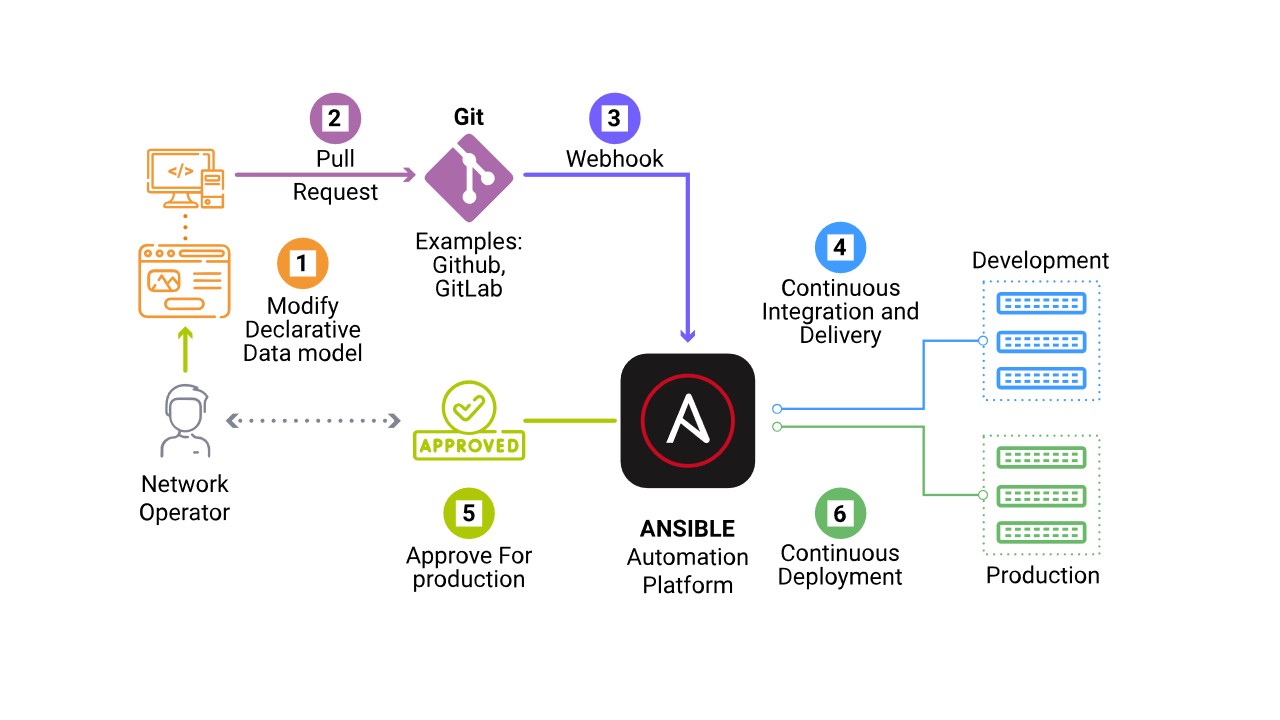 Our way to improve network knowledge and efficiency
In this scenario, the Network Administrator manages its configurations from a single centralized point; the configurations are then automatically versioned and finally distributed to the relevant devices. In this way, the incidence of manual errors decreases dramatically and any rollbacks are immediate – it's just necessary to load the previously versioned configuration - and, of course, the timing of the application of configurations moves to minutes even on hundreds of devices.
But how does this model apply? This is a path that involves many internal processes and, as Kirey Group, we recommend a bottom-up approach. In practice, we accompany our clients first in the design of the macroscopic architecture, then in the initiation of automation, starting with the simplest and most repetitive processes. The first benefits in terms of error reduction and technical experts' quality of work can be appreciated immediately. Implementing automation in the medium term, extending it as you go along, results in a faster network and an increase in the number of requests processed. In the long term, the improved performance and benefits of comprehensive governance of the network infrastructure are evident.
In summary, the concrete benefits of our approach to network infrastructure are:
Reduced errors

Agile network management, with the ability to allocate resources to more important activities

Increased speed and quantity of requests processed

Governance of configurations
At Kirey Group, we believe that the future of the network cannot ignore automation, and through this approach, supported by our partnership with IP Fabric and the GitOps model, we accompany enterprises toward optimized, faster, and more efficient infrastructure management.