Kirey Group participates to the
Clusit Security Summit
,
the event dedicated to the security of information, networks and IT systems
Online Event
November, 9th
15.20 - 16.20

Kirey Group participates to the Security Summit, the event dedicated to the security of information, networks and IT systems organized for over 10 years by Clusit, the main and most authoritative Italian association in the IT security field, with Astrea.

This edition will be streaming with a structure divided into plenary, training and technology sessions.

The event opens with a plenary session "Presentation of the Clusit Report - November 2021 update" in which Cluist experts will present the data of the new report, featuring an analysis of the current year's data.
Learn more about the event ➡ Agenda
Vmware-Carbon Black solution and enterprise cybersecurity threats
The pandemic has forced companies and their employees to change the way they work: smart working is one of the most obvious changes. However, working remotely exposes companies to numerous threats that harm their cybersecurity. Cybersecurity is often overlooked when it comes to Digital Transformation, but in a market that is evolving, only technology can help.
Kirey Group, strong of its expertise in the field of
Cybersecurity
, will take part in the session on Tuesday, November 9, 15.20 - 16.20, with the speach "Digital Transformation & Smart Working: only a holistic strategy can protect companies" in collaboration with
VMware – Carbon Black
and
There will be an overview of how Digital Transformation and Smart Working require companies to adopt new security strategies and processes to protect themselves from increasingly advanced threats.
👇 Register for free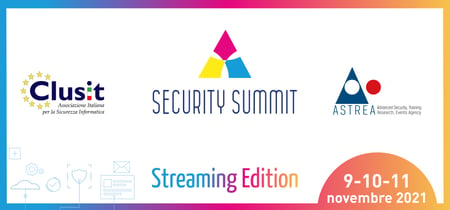 Matteo Frare Barutti, Enterprise Account Executive della Security Business Unit of VMware – Carbon Black, will address the issue from the infrastructure point of view, explaining how the Vmware-Carbon Black solution is one of the most effective solutions.

Vicki Vinci, Business Development Manager of Kirey Group, will tell, through some successful cases, how to achieve complete IT security from the methodological point of view: the technology is effective when it comes to the end of a path of elaboration of a security strategy and a series of processes that need to be adopted.
Massimo Brugnoli, Business Development Manager at Project Informatica, will focus on the specific area of Carbon Black, as a player mode in the management of Incident response. What happens when the smart worker fails to comply with the rules of proper security? Project will take us behind the scenes, both for the company itself and for the partner company that must give immediate support with its Incident response.