Also thanks to Kirey Group's support, today the Cervelli Ribelli center in Rome is the perfect place for Tommy and for other autistic adults to work towards independence.
Kirey Group met Tommy and Gianluca Nicoletti almost by chance, thanks to our mutual connection with Fondazione Umberto Veronesi, which Kirey has been supporting for many years. Their story is about living with neurodiversity, but also about the extraordinary ability of rebellious brains to look at the world with different eyes. It is a human story - at the same time, of one and of many families - and it is powerful, because it enriches the narrative of disability by looking at it from a point of view that restores its complexity.
Gianluca Nicoletti has told it in his books, "Una notte ho sognato che parlavi," "Alla fine qualcosa ci inventeremo" and "Io, figlio di mio figlio," published by Mondadori, and in the films "Tommy e l'asta dei Cervelli Ribelli" and "Tommy e gli altri", with a deep reflection on the future that awaits autistic children when their parents are missing.
We met him to talk about how Cervelli Ribelli was born and the developments of the project that Kirey Group supports as part of corporate social responsibility.
Gianluca, when was the idea for Cervelli Ribelli born? Where did it come from?
My son Tommy is autistic and, at the beginning of adolescence, he began to experience moments of restlessness, which happened to result in aggressive and grumpy behavior. At that moment I took him with me and redesigned my studio to suit him, to suit his feeling. From that day on what he calls "daddy's home" is a cozy, soft home, and it is the place where he feels best. At that time I began to think that somehow I wanted to tell our story. Until then, my whole private life had stayed away from my career as a journalist. So with the first book, "Una notte ho sognato che parlavi," I "come out" and my family affair, which I had never talked about before, began to become the focus of my journalistic activity. With Tommy growing up we were asking many questions: where to find the right people to give him the best care, how to allow him to make his path to autonomy, and what future to imagine for his adult life.
To answer all these questions and carry on the conversation with other families of autistic children, I founded a nonprofit organization called Insettopia, which has now become the Cervelli Ribelli Foundation, and the information website Per noi autistici.
A lot of families don't talk about their autistic children because it is still experienced as a stigma; instead, we want to claim the pride of unruly thinking. Rebellious brains are those who have some difficulty in relating to others, understanding and moving in the world, but at the same time they have lateral thinking skills, as well as eccentric and brilliant insights. The spectrum of neurodiversity is vast, and it is good to be aware that it involves seemingly unsuspected people, who often have important roles and responsibilities at work thanks to their skills.
In the film "Tommy e gli altri" you document the situation of autistic adolescents and adults around Italy. What awaits Tommy in the future?
Today unfortunately when an autistic child grows up and his parents, for a variety of reasons, can no longer keep him with them, he is taken to a settlement house. For me, this option was unthinkable for Tommy. It would have been a loss of his identity as an artist and his social life, so I began to look for a place where I could make a life project for him. I looked for support in institutions and politics, but without success, despite the close relationships I had had in previous years, since I had presented the film "Tommy and the Others" in the Senate of the Republic and participated in the "After Us" law and the Autism law. So one day I decided to invest everything I had in a 160-meter apartment in Rome, near San Pietro Basilica.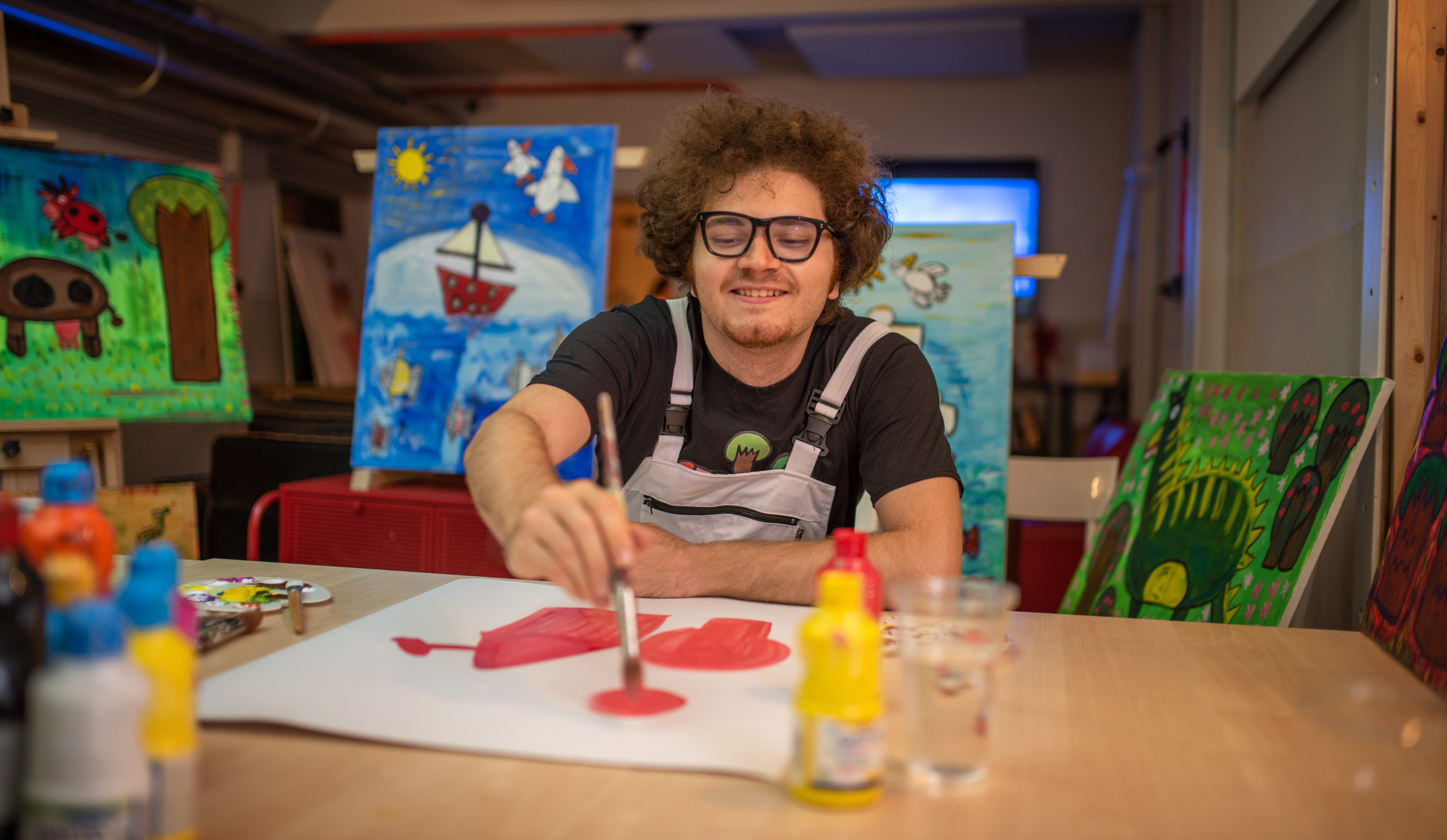 During the recent renovation, I put out a call for private lenders interested in supporting the project, and Kirey Group answered the call with a donation that allowed us to make the space advanced in terms of technology, automation, and security. Last September, we opened the center where Tommy and three autistic boys can now do artistic activities and cultivate their passions with the help of cutting-edge technology. It is not a drop-in center, but a place where the boys' vocations are transformed into work that generates income for them: with Tommy we create handicraft prototypes (pottery, leather bags) that are later produced by specialized suppliers and find their market. This is a way forward for him.
What other models of personal and professional fulfillment do you envision for autistic adults?
I would like to organize a coding school for high-functioning autistic children. I think such a project could enhance them and help launch them into careers. Tommy, on the other hand, has always had a passion for art, so we have been working on that, trying to create a business model that has a different market than the typical support as a charity. Today we collaborate with some brands that like his creativity; right now, for example, we are creating prototypes for pottery that will be sold in Ibiza. And the search for contacts to open new channels for the production and sale of handicrafts is always open.
What projects will the Cervelli Ribelli Center host in the coming months?
This is a place where we light hope. In the coming months, we will organize here cultural events and educational projects in the area of neurodiversity and, more generally, fragility. Training and awareness are the keys to developing a more serene relationship with fragility, even for those who have never faced neurodiversity, or disability. I firmly believe that a society can call itself healthy the more it can share fragility within the community: everyone has a difficult moment in life sooner or later, and sharing is a balm that allows one not to feel alone in the face of adversity.
In this regard, in collaboration with Kulta, the communication agency co-founder of the Cervelli Ribelli Factory, we are working on a project dedicated to parents of autistic children, who do not know how to manage the situation and where to inquire. It will be a platform to support families with courses, useful addresses, and advice, and will be curated by experts. Our goal is to create initiatives that will leave a mark, that will remain and that will be a starting point for others who have the desire to add their contribution to our work. An "open source" of integration and inclusion tools for frail people.
👉Want to learn more about Cervelli Ribelli? You can find the project's website here and the Foundation's website here, with all the options you need to support it.