By Simone Traversari, Technology Project Manager | Bridge Consulting
The future of the Cloud is mapped out even on occasions like Oracle CloudWorld 2022, the major convention organized by Oracle in Las Vegas, USA, from 17 to 20 October. At this edition, the first after the break due to the pandemic, we witnessed big changes: not only new technology features but also new visions and goals.
"Exadata Insights: AIOps for Optimizing Resources", our Unicoop's case study session
As Bridge Consulting|Kirey Group, we presented, together with Oracle, the session "Exadata Insights: AIOps for Optimizing Resources" where we analyzed our customer Unicoop Firenze's case study about tuning custom applications on Oracle Exadata. Going forward to multi-cloud environments, there is no option for governance: it's mandatory to easily troubleshoot issues and perform capacity planning to be ready to transform our infrastructures in advance. Performance doesn't mean only going faster: we can save time and money to invest in new technologies and we can create new business opportunities.
In recent years, Oracle has evolved by shifting the focus from the product to the customer, focusing not only on solutions but on outcomes and success as well. The vision they share by working closely with their partners, such as Bridge Consulting | Kirey Group, is to guide customers on the journey of technological innovation and digital transformation. Thus, a new strategy based on trust, feedback, and win-together philosophy.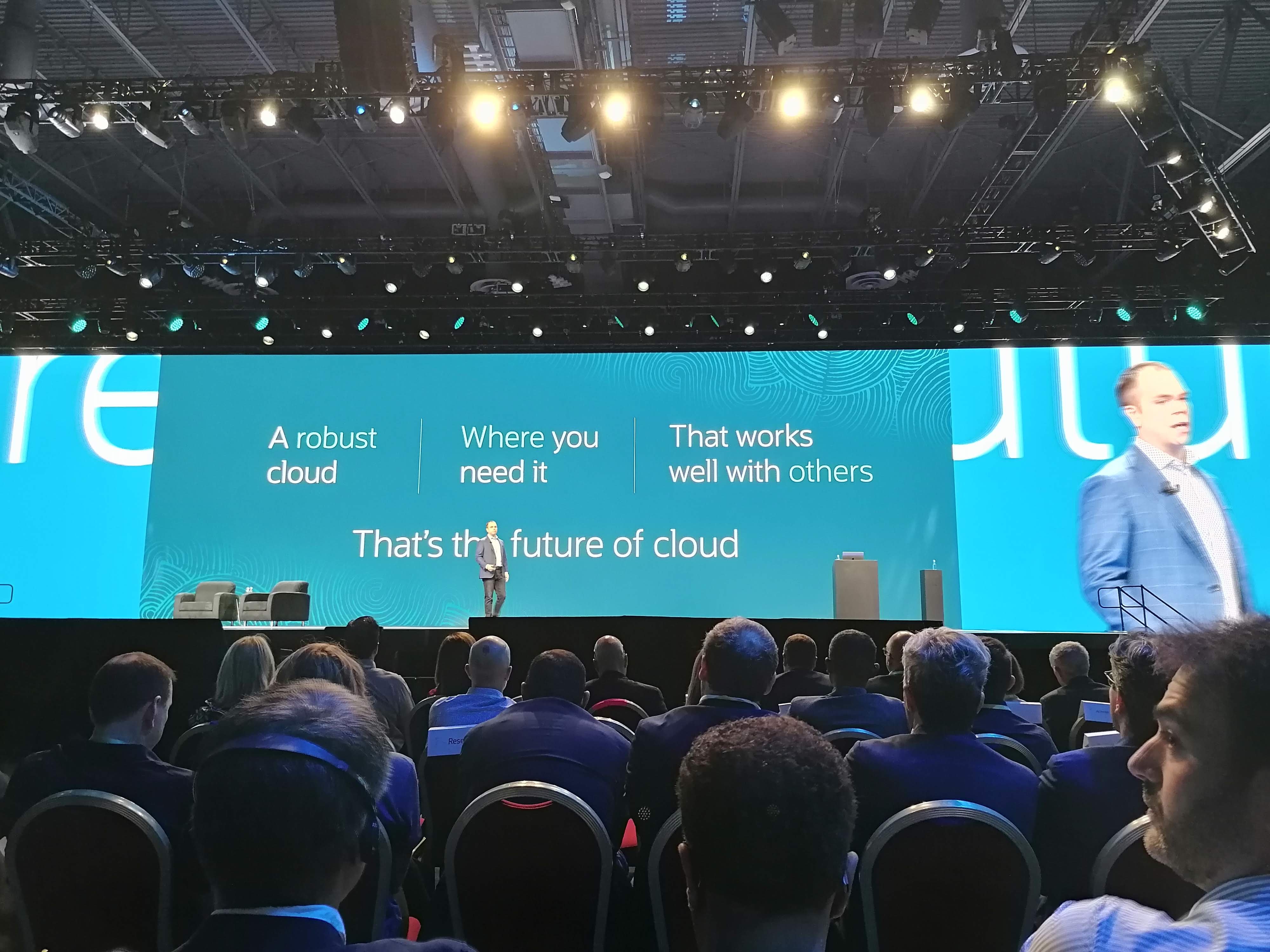 Oracle Cloud Infrastructure, performance and flexibility
Oracle Cloud Infrastructure (OCI) plays a fundamental role: firstly, performance and flexibility allow one to manage the growing size of data and to find out new insights from it. Secondly, Oracle Cloud Infrastructure improves operational tasks to reduce costs and invest money in new ideas, to get the most on people value. Lastly, Oracle Cloud Infrastructure is available not only at global or country levels but also @customer: dedicated regions are now smaller and this permits to solve regulatory compliance and data sovereignty and to adopt of the cloud as well.
During the conference and in the multiple exchanges with the Oracle Community, the importance of change also emerged, which should be fast and continuous: static infrastructure leads to security issues and complex migrations. That's why it's crucial to find the right solution for the business, in order to guarantee stability during the evolutions of our environments. Two methods can help us to avoid errors: automation (with standardization and rapid provisioning) and low-code development (to easily transform applications and to fastly deploy in the cloud).
Oracle's vision in the multi-cloud era
We are in the multi-cloud era and the vision we share with Oracle is clear: let the customer chooses the pieces of the puzzle based on its own needs. On Oracle Cloud Infrastructure, services of other cloud providers will be enabled to work together natively: this means not only direct interconnections but also interoperability as well. As consequence, we easily understand that governance it's a must at all levels: metrics, alerting, security, compliance, and cost. For that reason, we need to deeply understand multi-cloud environments: learning is fundamental. Training means being ready and creating solutions that are stable.
As Bridge Consulting we are proud to have been part of Oracle CloudWorld 2022. Fast innovation, win together and multi-cloud strategy are the keywords we brought home. And, above all, the mission of technology of creating a better world.