Today, large enterprises must face a big challenge regarding network and security systems.
The huge investments made in recent years in implementing individual tools have led to the creation of complex and fragmented multi-vendor networks, where there is a lack of clear and cooperative governance of all elements.
Access networks, WANs, clouds, data centers: with an increasingly hybrid, heterogeneous, and complex infrastructure, how can you optimize your network governance? Not being able to fully and quickly dominate the network exposes enterprises not only to major security-related risks, but also to high management costs related to the time and resources required to retrieve the necessary information. As a system integrator, one of Kirey Group's missions is to enable large enterprises to have an effective Network Governance System, which is safe and adaptable to their existing network system.
One of the best tools to accomplish this mission is IP Fabric, a plug-and-play Network Assurance platform listed by Gartner© as a Cool Vendor 2022. IP Fabric creates an inventory of network devices and offers valuable information such as network topology, configurations, and status, highlighting inconsistencies and problems through its automated discovery of network assets.
Configuration and documentation: the benefits of automatic network discovery
IP Fabric integrates 100% with the enterprise's pre-existing systems and tools, thanks to Kirey Group's expertise. This Network Governance tool enables, for example, the optimization of new device configurations which is automatically generated by the transformation of discovery events thanks to an automatic onboarding process that zeroes out manual activities related to configurations. Moreover, the TCO (Total Cost of Ownership) reduces significantly: with a consistently complete inventory of the network, its component elements, and their relationships, the organization minimizes manual search time in case of errors.
IP Fabric also offers key benefits for reporting:
Data is reliable and comparable, because the platform takes a snapshot of the state of the network at a given moment in time
It generates off-the-shelf reports, which are useful for audits, cloud migration, or acquisitions
Data democratization: Reports generated by the platform can be used, not only by network engineers, but also by C-levels and teams with different skills within the organization. This encourages a proactive approach to the network in terms of innovation, connectivity, and security.
How to reduce time and costs in ticket management
In Kirey Group's overall vision for the ecosystem of organizations, one of the key points is the normalization of management processes, with a focus on time and cost saving. In this regard, IP Fabric offers another relevant benefit through synchronization points with the client's TTS (Trouble Ticket System).
This feature is most useful when considering the standard process of manual ticketing management: Let's think, for example, about investigation time, vulnerabilities generated by human error, and the need for in-depth knowledge of all the different vendor tools. The accurate and accessible overview of the network that IP Fabric offers allows for a significant reduction in MTTR (Mean Time to Repair): it automatically detects single points of failure (SPOFs) and inconsistencies that can cause errors or business interruptions.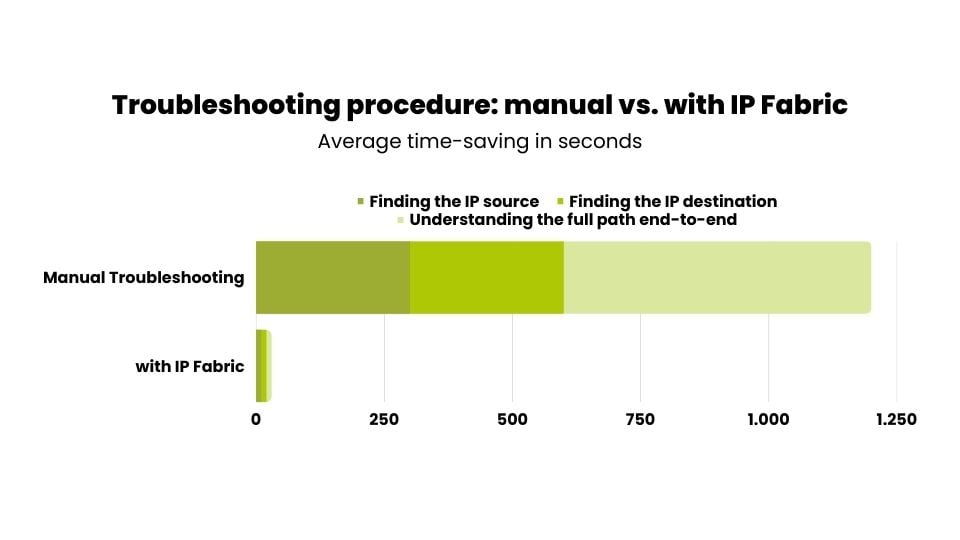 By partnering with IP Fabric, Kirey Group makes its monitoring offering even more comprehensive with a tool that doesn't replace monitoring tools, but acts instead as a complementary key to a proactive approach to network governance, which can highlight latent problems.